What are NFTs, exactly?
To over-simplify, an NFT closely resembles a digital certificate of authenticity. Digital artwork, by its very nature, can be copied and distributed instantly all around the world. But buying an NFT, gives the customer proof of ownership for whatever they're collecting, regardless of how many digital copies exist.
Born out of the visual art world, NFTs create a sense of scarcity that's inherently artificial—the token is rare, not the artwork itself. Accordingly, the story of NFTs is about commerce as much as it is, creative expression. What happens with them will have as much to do with the inclinations of financial markets as artistic ingenuity.
Non-fungible tokens add potential to the creation of security tokens, the tokenization of both digital and real-world assets. Physical assets like property could be tokenized for fractional or shared ownership. If these security tokens are non-fungible the ownership of the asset is completely traceable and clear, even if only tokens representing part ownership are sold.
Several forward-thinking investors have created entirely new revenue channels by implementing NFT assets into their business models. The industries that have fostered innovative NFTs; The most successful thus far include Musicians, Artists, and Athletes. 
NFT's surfaced into mainstream media and daily discords as if they were the latest tech gadgets that were 'cool' to collect. The fact is, these alternative channels of revenue are soon becoming much more impactful than the hype that was promised. From NBA's Don, Lebron James to rapper Post Malone and singer Grimes, the concept of original digital content, think the first draft of a masterpiece novel or an original Picasso, but in digital form — has stimulated the interest of creatives everywhere. Let's break down this thoroughgoing concept, the key players, and how they will continue to shape our world — whether you buy into the vogue or not.
Musicians
The cryptocurrency-adjacent digital art format has driven millions of dollars in sales for musicians, including Grimes. Is it a force for democratizing the industry or just more hype?
On February 28, Grimes auctioned off $5.8 million worth of digital art pieces within 20 minutes. More specifically, she sold NFTs.The same weekend as Grimes' sale, electronic musician 3LAU sold $11.6 million in NFTs, while Latin-trap star Ozuna sold out a batch of NFTs for about another $800,000. Now Kings of Leon have joined the conversation of musicians selling their IP as NFTs.
The NFT sales boom has catalyzed a mainstream music industry gold rush, which some advocates argue could become a long-term benefit to artists who have long been on the short end of the revenue share. Musicians also suffered economically under the streaming-era status quo. But the frenzy also raises difficult questions about class and the value of art in the age of digital reproduction. Here's a brief rundown of what music NFTs are, and why they're sparking conversations about more than just chasing money.
The people from the music world doing best with NFTs so far have pre-existing ties to the fervent crypto community. But many others have been testing out the format. Last year, Deadmau5 started selling NFTs for virtual stickers. Other mainstream figures such as Kings of Leon, Linkin Park's Mike Shinoda, and Shawn Mendes have also climbed on board, while Portugal. the Man recently proclaimed that "cryptocurrency is the new rock'n'roll." Also in late April, Disclosure debuted a song on Twitch and sold it as an NFT. Testing the limits of this platform further, Canadian electronic music producer Jacques Greene auctioned the publishing rights to a new single via NFT. 
For music lovers, the most optimistic scenario for NFTs might be that they will give musicians the economic clout that they lack in the internet's most recent iteration. 
Artists
Art NFTs are having their big-bang moment: collectors and speculators have spent more than $200 million on an array of NFT-based artwork, memes, and GIFs in the past month alone, according to market tracker NonFungible.com, compared with $250 million throughout all of 2020. And that was before the digital artist Mike Winkelmann, known as Beeple, sold a piece for a record-setting $69 million at famed auction house Christie's on March 11—the third-highest price ever fetched by any currently living artist, after Jeff Koons and David Hockney. Clearly, this space is also a viable revenue stream for artists of all mediums.
But many digital artists, fed up after years of creating content that generates visits and engagement on Big Tech platforms like Facebook and Instagram while getting almost nothing in return, have lunged headlong into the craze. These artists of all kinds—authors, musicians, filmmakers—envision a future in which NFTs transform both their creative process and how the world values art, now that it's possible to truly own and sell digital art for the first time. Artists invest a large portion of their time creating and mastering their craft. To see them compensated on an appropriate scale is undoubtedly comforting.
Sports
Blockchain adoption can be seen across many industries, but perhaps nowhere is it happening faster than in the sports sector. While many factors have led to the rise of blockchain, the advent of non-fungible tokens and fan tokens is now driving growth in the professional sports world, both in the US and across the globe.
The impressive amount of capital flooding into the NFT market has led to an abundance of NFT projects in various professional sports leagues and firms in the sports industry, including the MLB, NBA, MLS, UFC, and WWE. 
A notable example is Dapper Labs, the blockchain company that created one of the most popular sports-related NFT applications, NBA Top Shot. NBA Top Shot is the NFT marketplace for NBA highlight reels and provides individuals with NBA-licensed digital items, otherwise known as "moments." NBA Top Shot at its foundation is a blockchain-based trading card system. Since NBA Top Shot's launch in 2019, it has generated more than $500 million in gross sales. When an NFT is purchased on NBA Top Shot, the NFT owner does not own the NBA highlight reel but instead, as is typical with most NFTs today, owns a license to use, copy and display the highlight reel: (i) for personal, non-commercial use; (ii) on a marketplace to sell the NFT, provided there is cryptographic verification in that marketplace; and (iii) as part of a third-party website or application which would likely be used to enable the trading card game aspect of the NFT.
Dapper Labs recently secured $305 million in funding from a significant group of major celebrities, including Ashton Kutcher, Shawn Mendes, Will Smith, Michael Jordan, Kevin Durant, and other notable athletes. The influx of significant capital positions Dapper Labs for future growth as it continues with its next big project with the UFC, the mixed martial arts promotion company, via an existing licensing agreement to create limited-edition digital collectibles and games in the form of NFTs.
Another highly popular NFT application is Sorare, the global soccer fantasy league powered by NFTs. Sorare is very popular around the world and has partnered with over 100 soccer clubs, including some of the world's most prominent and popular football clubs, such as Real Madrid C.F., Paris Saint-Germain F.C., FC Bayern Munich, and Liverpool F.C. Sorare has also partnered with the MLS Players Association to bring more than 700 MLS players on to the Sorare application which is implemented through a licensing agreement announced in the summer of 2020. Sorare allows individuals to buy and sell digital soccer player cards but also allows individuals to trade player cards, build teams and earn rewards based on real performances via a soccer fantasy league.
Athletes are not just investing in existing NFT and blockchain companies but are also launching their own NFT platforms. Tom Brady, the Tampa Bay Buccaneers quarterback, has announced the launch of his own NFT platform called Autograph, which will collaborate with some of the most prominent athletes and entertainers to create digital collectibles and potentially real-life experiences. Former NFL quarterbacks Eli Manning and Peyton Manning have launched their own digital artwork collection called "The Manning Legacy Collection" in collaboration with Makersplace, an NFT marketplace. In addition to receiving the digital artwork, depending on the NFT purchased, purchasers of The Manning Legacy Collection NFTs may receive physical artwork, autographed memorabilia, and/or virtual meet-and-greets with the Manning brothers. These iconic figures join a growing list of athletes that have entered the NFT space, such as Tampa Bay Buccaneers tight end Rob Gronkowski (selling almost $2 million worth in NFTs), Kansas City Chiefs quarterback Patrick Mahomes (selling almost $3.4 million worth in NFTs), and retired NFL stars Julian Edelman and Vernon Davis.
Fan Tokens and Fan Engagement
Fan Tokens are yet another application of blockchain technology in sports, which are fungible digital utility tokens created and used on a given blockchain offering fans access and influence over certain decisions made by their favorite sports teams, VIP rewards, special promotions, and other benefits. Unlike NFTs, fan tokens may be exchanged and traded. In fact, fan tokens are traded similarly to cryptocurrency, a medium of exchange secured by cryptography, such as Bitcoin. Fan tokens have grown in popularity with fans because owners of fan tokens can have an influence on certain club matters, such as the selection of uniforms or even real-time decisions like selecting the most valuable player of a particular game.
Prestigious soccer clubs have partnered with blockchain firm Chiliz and its sports fan engagement platform, Socios, to launch their own fan tokens, and these clubs have capitalized on these novel revenue streams. In the summer of 2020, FC Barcelona launched its own fan token ($BAR) and generated $1.3 million in less than two hours after the tokens went on sale. The tokens were sold in 106 different countries and began giving fans the opportunity to vote on many different decisions regarding FC Barcelona, including the design of a mural in the first team's locker room. Other teams have had similarly spectacular results. A.C. Milan, a Serie A soccer club, recently collaborated with Chiliz to list its fan token ($ACM) on Binance, the cryptocurrency exchange, and generated $6 million in revenue in just a few hours. Many well-known soccer clubs such as Paris Saint-Germain F.C., a French Ligue 1 soccer club, and Juventus F.C., a Serie A soccer club, have also taken advantage of the economic benefits of fan tokens.
Other sports are also offering fan tokens. In May 2020, the UFC announced its partnership with Chiliz to launch its own fan token with an aim to reach a broader audience. The UFC fan token may, among other things, permit fans to have input into the decisions for events and fight matchups. Esports organizations and teams are also getting into this space. Chiliz has recently announced its planned expansion into the U.S. with a $50 million investment, with the likely intent of developing fan tokens for teams across the five major U.S.-based sports leagues: NFL, NBA, MLB, MLS, and NHL.
Further Applications
Technologists, meanwhile, say NFTs are the latest step toward a long-promised blockchain revolution that could radically transform consumer capitalism, with major implications for everything from home loans to health care. The excitement around NFTs feeds a similar narrative to other recent price surges such as GameStop and dogecoin, in that these are speculative bubbles brought about by stimulus checks in the US, lockdown boredom, and low-interest rates. But history also tells us to be careful about dismissing NFTs as a passing fad, since the importance of technological innovations often becomes clearer once the hype dies down. Many commentators dismissed the influx of tech companies around the dot-com bubble of the late 1990s, and the first wave of mass cryptocurrency enthusiasm in 2017, only to be proven hopelessly wrong when Amazon and bitcoin re-emerged.
NFTs themselves are actually well down from their highs, with a 70% drop in average price since February. Perhaps this is less the bursting of a bubble than a "weeding out" of gimmicky tokens now that the initial hype has begun to die down. This phenomenon is captured well in US consultancy Gartner's hype cycle, which illustrates the typical progression of new technology. With NFTs, we are probably emerging from the "peak of inflated expectations" on a journey towards the same "plateau of productivity" that Amazon reached a long time ago.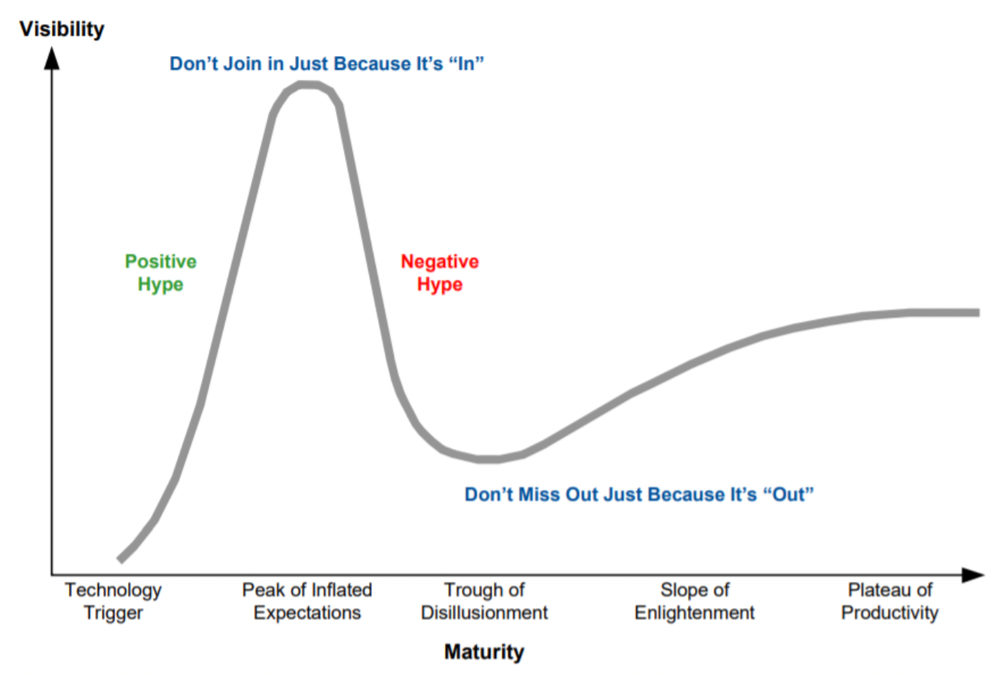 Further application of non-fungible tokens could be certification such as for qualifications, software licensing, warranties, and even birth and death certificates. The smart contract of a non-fungible token immutably proves the identity of the recipient or owner and could be stored in a digital wallet for ease of access and representation. One day, our digital wallets could contain proof of every certificate, license, and asset, we own.  But beyond these fields, the potential of NFTs goes much further because they completely change the rules of ownership. Transactions in which ownership of something changes hands have usually depended on layers of middlemen to establish trust in the transaction, exchange contracts, and ensure that money changes hands.
If the disruptive asset class is can maintain its momentum none of this will be necessary for the future. Transactions recorded on blockchains are absolutely reliable because the information cannot be altered. Smart contracts can be used in place of lawyers and escrow accounts to automatically ensure that money and assets change hands and both parties hold true to their agreements. NFTs convert assets into tokens so that they can move around within this system.
Markets like real estate and vehicles can also see incredible shifts towards the adoption and application of NFTS. For example, NFTs could also be part of the solution in resolving issues with land ownership. Only 30% of the global population has legally registered rights to their land and property. Property owners without clearly defined rights find it much harder to access finance and credit. Furthermore, if more of our lives are spent in virtual worlds in the future, the things that we buy there will probably be bought and sold as NFTs too.
Further developments in this space are inevitable. The full potential of a decentralized economy has yet to be imagined. We can say that it will be a much more transparent and direct type of market than what we are used to. Those who think they are seeing a flash in the pan are unlikely to be prepared for what is on the horizon.